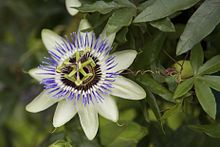 Passionflower Tincture 2 oz
SKU:
$20.00
$20.00
Unavailable
Passionflower (Passiflora incarnata) was used traditionally in the Americas and later in Europe as a "calming" herb foranxiety, insomnia, seizures, and hysteria. It is still used today to treat anxiety and insomnia. Although scientists aren't sure, it is believed that passionflower works by
increasing levels of a chemical called gamma-amino butyric acid (GABA) in the brain. GABA lowers the activity of some brain cells, making you more relaxed.