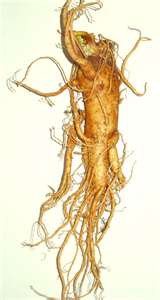 Ginseng (Red Korean) Tincture 4 oz
SKU:
$25.00
$25.00
Unavailable
The medicinal properties of Panax ginseng are found in both the leaf and its light tan, gnarled root; sometimes resembling a human body, with stringy shoots that look like arms and legs, hence the whole herb is referred to as a "hand".Wrinkles around the neck of the root tell how old the plant is; when the root is mature it is 2-4 inches long, 1 inch thick resembling a spindle. The roots of the plants become forked when they mature after 5-7 years.


NOTE: There is a distinct difference in the chemical composition of Asian ginseng (Panax ginseng: warming) and American ginseng (Panax quinquefolius: cooling). In addition Eleuthero (Eleutherococcus senticosus), formerly called Siberian ginseng, is a completely different species; these three herbs are not interchangeable.